Defending champions Germany have been eliminated from the World Cup at the group stage following defeat by South Korea, in one of the biggest shocks in the competition's history.
The four-time winners crashed out in ignominious fashion - conceding twice in injury time as they pressed for the goal which would have sent them through.
In an astonishing and enthralling end to the match, Kim Young-gwon's 92nd-minute goal - which was initially ruled out for offside before being awarded after a video assistant referee decision - left Germany on the brink of elimination.
Worse was to come for the world's number one ranked side, however, when deep into stoppage time and appearing increasingly desperate, goalkeeper Manuel Neuer lost possession in the opponents' half.
Ju Se-jong launched it forward where Son Heung-min tapped into an empty net to score the second.
That prompted jubilant celebrations from the South Koreans, while some Germany fans inside the shocked stadium were left in tears four years after watching their national team lift the trophy in Rio; a competition in which they beat the hosts Brazil 7-1 in the semi-finals.
It is the first time since 1938 that West Germany or the unified Germany team has not advanced beyond the first stage of the tournament - Joachim Low's side finishing bottom of Group F in this edition.
Wednesday's defeat followed their opening loss against Mexico, while it took a dramatic late winner from Toni Kroos to earn them their only points of the group stage against eventual group winners Sweden.
Where did it go wrong for Germany?
Manager Low, who led Germany to World Cup glory four years ago, will face strong questions over his selections both before and during this tournament.
He left Manchester City forward Leroy Sane out of his squad, despite the 22-year-old playing a major role in helping City win the Premier League title, while Mario Gotze, who scored the winner in the 2014 final against Argentina, also missed out.
Against South Korea, Low made five changes, including recalling Arsenal's Mesut Ozil and dropping Thomas Muller, although the Gunners' midfielder did not justify his selection with a poor performance that repeatedly saw him give the ball away.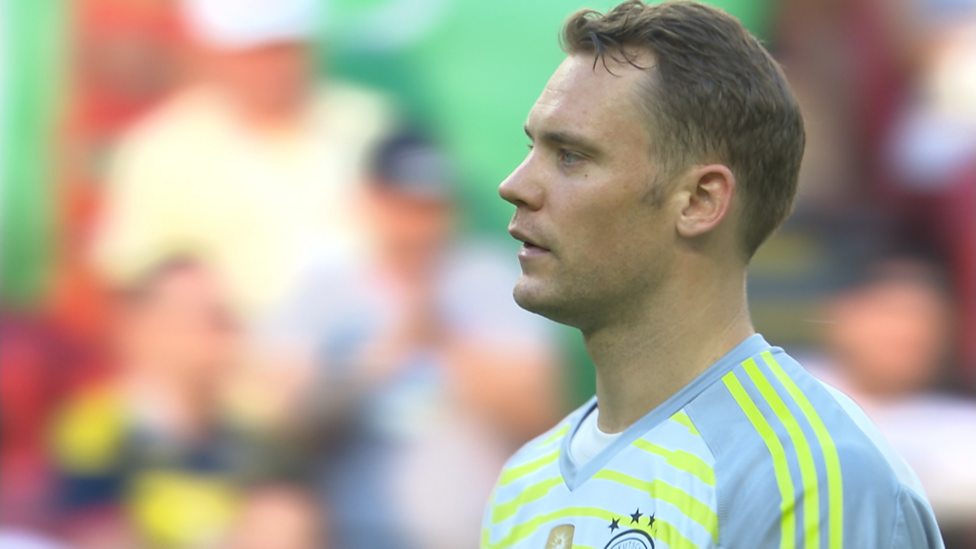 Where's Neuer gone? South Korea score second as keeper goes AWOL
Low has been in charge of Germany since 2006, taking them to the final of the 2008 European Championships where they lost to Spain and then that subsequent World Cup glory.
The future of some of Low's key players is also in doubt after this shock loss.
Neuer is 32, Sami Khedira is 31 and both Ozil and Marco Reus are 29, meaning this may have been their final match at a World Cup finals.
Low insisted that German football still had a bright future despite this failure.
He said: "Do I think this will bring about a dark time in German football? No, I don't think so.
"I think we have young players who are very talented, and some have the potential to go forward. This has happened to other nations before, we just have to draw the right conclusions and make it better going forward."
Wasteful Germany's missed chances cost them
With Sweden winning 3-0 against Mexico in the other Group F game, and it being goalless in Kazan, Germany knew they had to score in a frantic finish.
A win for Germany would have edged Mexico out on goal difference - but the drama came at the other end as Kim put the ball into the net, although it was initially ruled out for offside.
However, the VAR review showed the ball had deflected into Kim's path off of a German player - Kroos - and the goal was given.
With Germany desperately looking for a goal to get back in the match, Neuer joined the attack.
But he was caught out as a long ball left Tottenham forward Son with the simple task of walking the ball into the net to spark jubilant celebrations among the Asian side, even though their elimination had already been confirmed.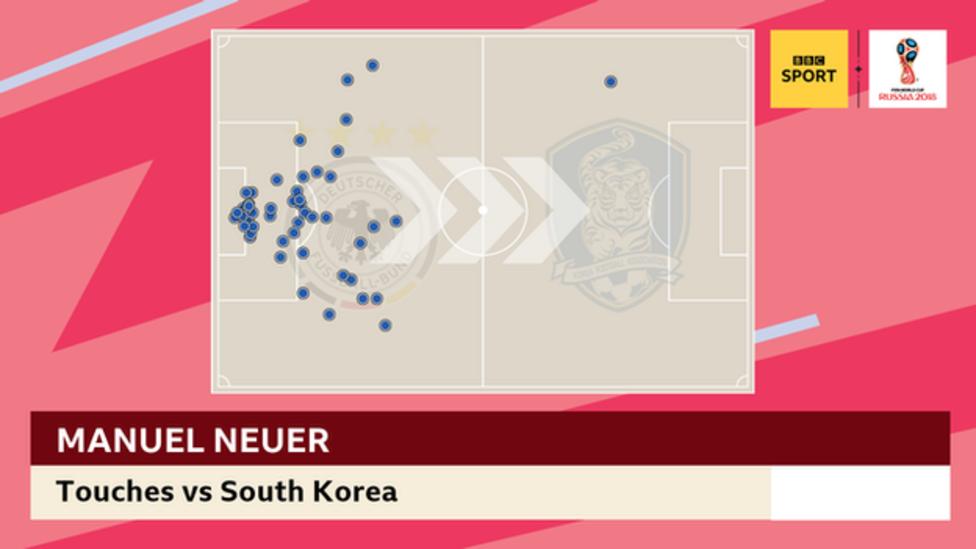 Germany goalkeeper Manuel Neuer's one touch in the opposing half came just before he was dispossessed for South Korea's second goal
The Germans will regret their wastefulness in front of goal when the game was goalless.
South Korea's goalkeeper Cho Hyeon-woo made a fine one-handed save from Leon Goretzka's header and Timo Werner volleyed wide from near the penalty spot.
Mats Hummels headed over the top when unmarked six yards out in the closing stages, before South Korea's two late goals.
It means Germany's hopes of becoming the first team to retain the World Cup since Brazil's victories in 1958 and 1962 ended in embarrassing fashion.
South Korea out, but still celebrate a memorable win
South Korea went into the match with no points from their opening two games after losing 1-0 to Sweden and 2-1 to Mexico.
However, they had a mathematical chance of qualifying for the last 16 for only the third time in 10 competition appearances, although they needed Mexico to beat Sweden.
South Korea had the first chance when Jung Woo-young's free-kick was fumbled by Neuer, who punched clear bravely as Son tried to convert the rebound.
The Tottenham forward also lashed a volley wide when it was goalless, before being booked in the second half as referee Mark Geiger thought he had dived in an attempt to win a penalty.
Even though the score in Ekaterinburg ended South Korea's hopes of going through, they still sensed a memorable win over Germany.
The team ranked 57th in the world achieved that victory thanks to the two late goals, both of which were celebrated as if they had qualified themselves.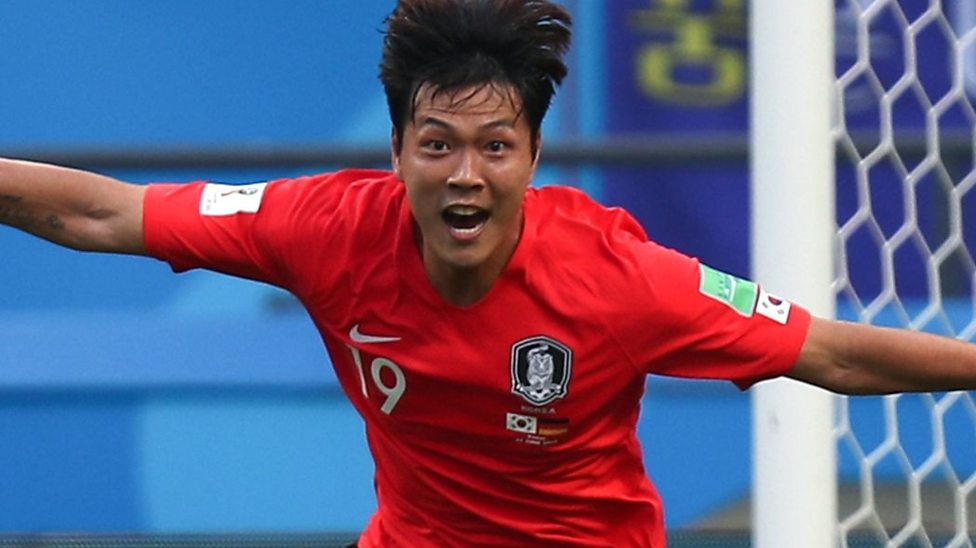 VAR goal knocks Germany out of World Cup
'This will fall on Joachim Low' - analysis
Football journalist Archie Rhind-Tutt on BBC Radio 5 live
This will fall on Joachim Low for the way he organised the team. There was no real balance to the side. The players will take a hammering but most of it will be for Low.
I think they underestimated South Korea and it didn't make sense to put Sami Khedira and Mesut Ozil back in. A terrible day for Germany.
Former Chelsea striker Chris Sutton on 5 live
I did not see it coming. I thought Germany would've brought the momentum from the Sweden game into today, but they started so slowly without any intensity.
Why was Manuel Neuer ahead of two forwards for the second goal? He is a loose cannon. What was he doing playing on the left wing? He is a goalkeeper - why is he in that position? It was an open goal for Son and the Germans have got what they deserve.
Man of the match - Son Heung-min (South Korea)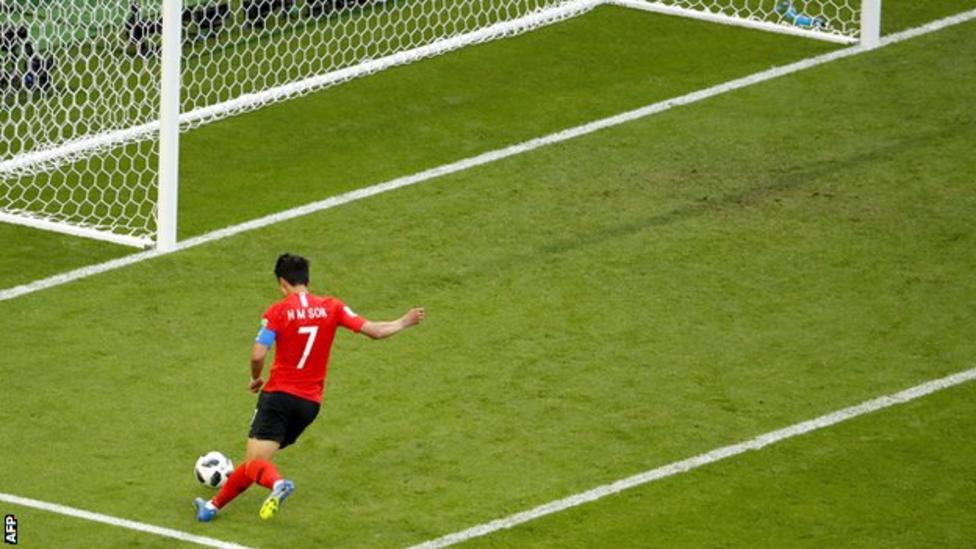 Reigning champions go home early yet again


Germany are the fourth defending champions to be eliminated from the Group Stage at the World Cup in the last five tournaments (also France 2002, Italy 2010, Spain 2014).


This is only the second time that Germany have been eliminated from the first round at the World Cup having last done so in 1938 - however, this is the first time it has happened when the first round has been in a group stage format.


South Korea have been eliminated from the group stage at consecutive World Cup tournaments for the first time since they failed to progress from this stage in each of their first five appearances at the World Cup (1954, 1986, 1990, 1994 & 1998).


Germany's tally of two goals scored at this World Cup is the second fewest managed by a defending champion in the competition, only ahead of France's zero in 2002.


This was Germany's first ever defeat against an Asian nation in a World Cup match in what was their sixth such match.


Germany have failed to score in two of their three World Cup games in 2018, as many as their previous 15 World Cup matches combined.


This was South Korea's first clean sheet at the World Cup since a 2-0 win over Greece in 2010; they had gone eight without a shutout before this match.


South Korea have beaten Germany in a World Cup match for the first time, having lost each of the previous two meetings in the competition.


Son Heung-Min's goal for South Korea (95:52) was the latest goal Germany have ever conceded in a World Cup match (excluding extra-time).


Since the 2010 edition, Germany have lost both of their World Cup matches in which Thomas Muller has not started (also lost 0-1 to Spain in the 2010 semi-final), compared to 80% when he has started (12 wins in 15 games).
'A lot of us cried' - what they said
South Korea coach Shin Tae-yong said: 
"I feel great but at the same time I feel a little bit empty, so I feel a little bit ambivalent.
"Yesterday we said there was only a 1% chance and so I told my players it really was a last-ditch effort for them and I told them they had to fight until the end.
"Germany are the defending champions and number one in the Fifa rankings so I thought about what mistakes Germany might make, because they probably felt they would be able to beat us - that's what everybody thought.
"I thought we could use that as a reverse strategy and that has really hit the nail on the head."
South Korea goalkeeper Jo Hyeon-woo said: "I've never had a perfect game like this before, all my career.
"All of the Korea players, and also the head coach, were playing for the Korean people, we all become one for the Korean people.
"It was only after the match that we realised the score and of course we were disappointed, so that's why a lot of us cried."
Germany manager Joachim Low said: "The disappointment of us being eliminated is just huge. We didn't deserve to be winning the World Cup again, we didn't deserve to move into the round of 16.
"I'm shocked. Shocked because we didn't manage to pull it off and beat Korea Republic and we lost this game. It wasn't my impression when I spoke to the team before that they were under pressure before the match because the Sweden game was on at the same time.
"We really had the feeling that our team wanted to move ahead and qualify for the knockout stages.
"How do we go from here? We'll have to talk about it calmly and I think it's premature for me to say something. It will take me some hours to come to terms with it and I'm incredibly disappointed by this elimination.
"Our team in this match was missing the ease of play and the classiness we normally display. Also the dynamism that led to the goalscoring opportunities was not there, so we deserve to be eliminated."
Source:BBC