The Mental Health Society of Ghana (MEHSOG) has appealed to political parties and stakeholders in the upcoming December polls to conduct their activities in a lawful manner to ensure peace before, during and after the polls.

According to the group, the current political tension amidst legal suits and accusations have necessitated a clarion call on Ghanaians particularly political parties and their followers to conduct themselves well during the election period.

Executive secretary of MEHSOG Humphrey Kofie disclosed this in Bolgatanga at the 7th annual general meeting of MEHSOG on the theme: "Inclusive Governance, the Role of people with Psychosocial disabilities".

Mrs. Kofie, who bemoaned the stigmatization and discrimination against persons with psychosocial disabilities from exercising their civil and political rights, underscored their contribution to national development and urged members to actively participate in this year's election by voting for good leaders to improve their livelihood.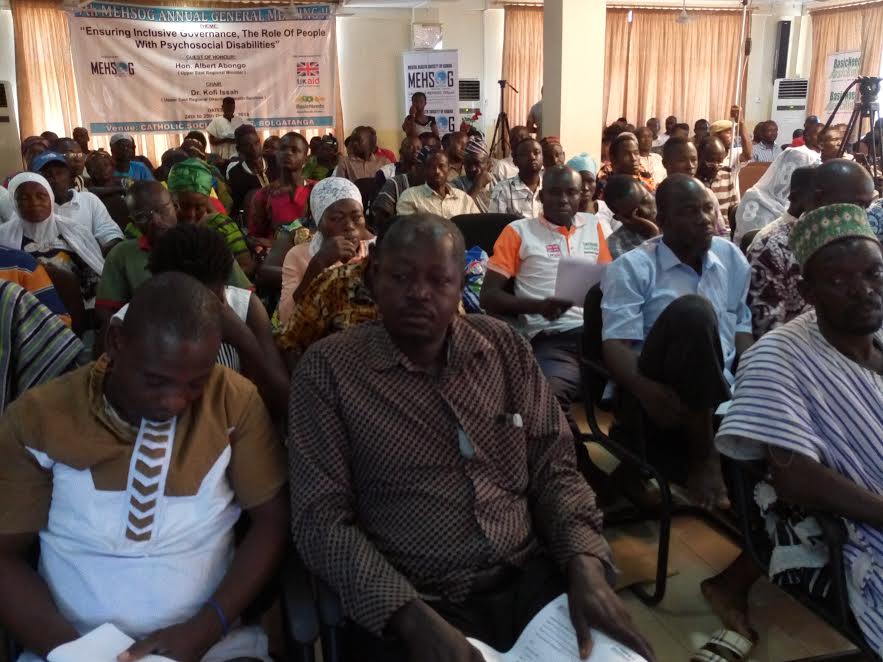 "Persons with psychosocial disabilities are just like every normal person and therefore equity and quality is what we are seeking for, we should give attention to whom attention is needed most. We have the highest rate of unemployment while children with mental health conditions face challenges in accessing education."

"And we should try to allow everyone to enjoy their basic human rights and we don't think persons with psychosocial disabilities should be deprived of their human rights. She said, the meeting was to preach the peace message to the political parties, stakeholders and the populace to appreciate their vulnerability and work in synergy for the peaceful election. Even in this state of peace that we are, the kind of violence treatment that we go through day by day because of our disabilities so should anything untoward happen our lives will be in danger."

Mrs. Kofie appealed to government and policy makers to consider the plight of persons with psychosocial disabilities in their policies to services accessible and affordable to them.

Participants drawn from seven regions of Ghana grace the annual meeting in Bolgatanga in the Upper East Region.

citifmonline.com