The governing National Democratic Congress (NDC), has suffered from a major political blow in the Kumbungu Constituency of the Northern Region, where over 800 supporters have defected to the opposition New Patriotic Party (NPP).
The defectors are from three communities comprising Kumbung-Kukuo Yipeli-Naayili and Duli Zugu.
They organized a rally at Duli Zugu, where the NPP's Parliamentary Candidate for the Kumbungu Constituency, Iddrisu Muqtar Dems and other party bigwigs from the Northern Region, officially welcomed them into the elephant fraternity.
Their Spokesperson, Mahama Seidu, in a Citi News interview said they were tired of the NDC's deceit and neglect. He mentioned lack of electricity and youth unemployment among other factors as reasons for their defection.
"We have been voting for the NDC since 1992 in these three communities with more than 600 households and we have been knocking the doors of the NDC party to meet our demands and no response."
"As for this time round, we won't agree and we are going to vote for our own development because in these three communities there is no electricity."
Mahama Seidu added that, as peasant farmers, they could not pay their children's school fees because of the decline in agriculture.
"We have realized that there is no way we can be sustained under the NDC and that is why we have to quit. There is no single person from this area who is under the youth employment programme and we have to ask ourselves what are we voting for?"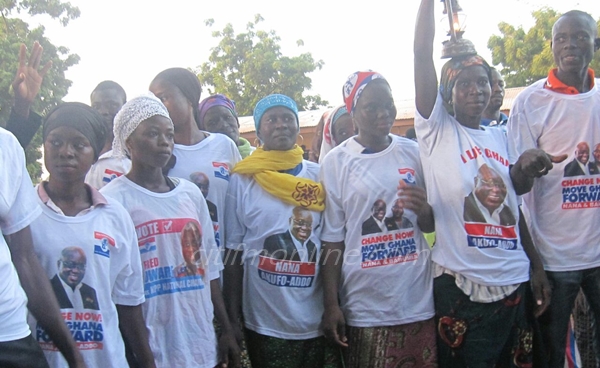 He complained about their women sleeping in other communities to grind their cereals and sheanuts. Mahama Seidu commended the erstwhile Kufour led NPP administration for connecting their communities to pipe borne water.
It would be recalled that on August 17 2016, some angry residents of Gbulung and its surrounding communities in the Kumbungu District, threatened to boycott the 2016 polls if government fails to fix their deplorable road network. About a thousand of them including sub and youth chiefs, opinion leaders and assembly members, joined the massive demonstration.
The Convention Peoples Party's (CPP) incumbent Member of Parliament for the constituency is in the 2016 Parliamentary race with the NDC's Ras Mubarak and Iddrisu Muqtar Dems on the NPP's ticket.