This was the year of 'big fat' weddings where every couple seemed to be in a competition to outwit the other. At a time when newly-weds were busy hosting multiple receptions across the globe, greeting guests who were invited with a wedding card that cost over three lakhs, a man in Karachi had set an example by sharing the story of his wedding that cost him just 20,000 Pakistani rupees (around 10,000 INR). Unbelievable, right? The story of his simple wedding has already gone viral on social media and people have started pouring in their wishes and sharing stories of their wedding experiences.
Rizwan Pehelwan from Karachi, Pakistan, had an important message to share, "Do whatever you want and whatever you can afford. But HAVE FUN. Be happy. Big or small, all wedding should be just HAPPY. Khush raho sab."
In a world where grand venues, celebrity guests and multiple receptions set the benchmarks of a successful wedding, we seemed to have lost touch with the basic idea of a simple wedding and Rizwan has just reminded us of that—the importance of having a wedding that does not leave us tired and frustrated but instead makes us just happy, the way it should be.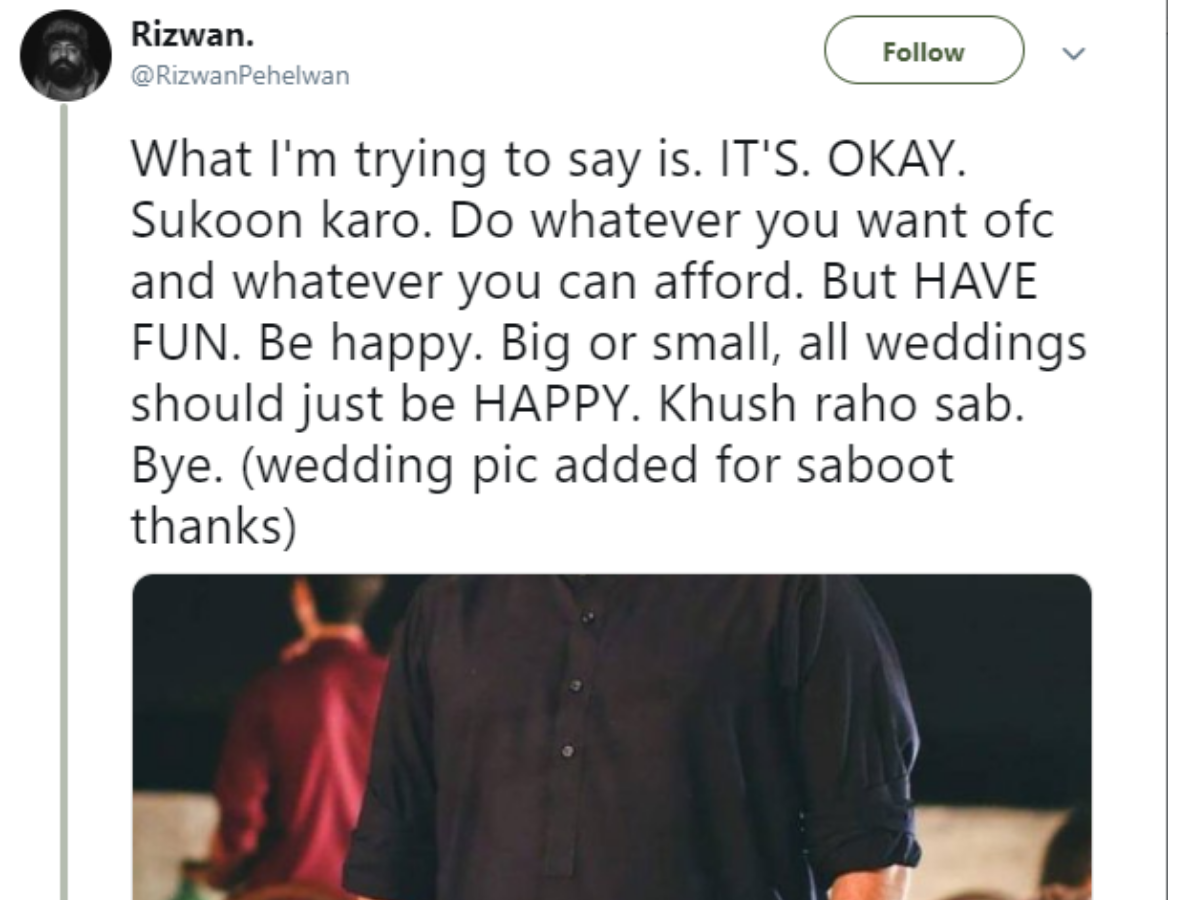 Sharing his wedding story, Rizwan wrote that his guest list had 25 names consisting of only friends and family. And the venue was none other than the terrace of his house. "The menu was chicken tikka, seekh kabab, pathooray chanay, halwa and strawberries," wrote Rizwan on Twitter.
The budget of the wedding was set at 20,000 Pakistani rupees and a friend lent him a cook. Rizwan bought chicken and other ingredients with the money and helped the cook prepare the food for the guests. While his wife cooked 'khattay alu' as a strater, his father bought fairy lights and decorated the terrace with it. The groom had borrowed 25 chairs from the neighbourhood election committee and when it was discovered that he had forgotten to arrange for dessert, his friends and family came up with a quick solution—ice-creams and strawberries!
If you are wondering about their wedding dress, Rizwan wrote about that as well: "My wife and I wore plain blue Shalwar kameez (mom and sister paid for this as a gift."
The story of his simple and happy wedding melted the hearts of many and they were quick to shower the newly-weds with blessings and wishes. In a world of big fat weddings, Rizwan's 'apni marzi ki shaadi' is a reminder of what a wedding should really be like.
Source: indiatimes.com