The Accra Metropolitan Assembly (AMA) has announced safe havens in flood prone areas in Accra to ensure minimal effects of floods if they occur this year.
The Assembly in a statement copied to citifmonline.com identified fourteen (14) low lying areas within its precincts prone to flooding and matched open parks as safe havens for shelter.
The statement said, the safe havens could serve as temporary shelter for victims of flood. Below is a list of flood prone areas and safe havens where the public in the identified communities are expected to seek shelter in case of any eventuality with respect to flooding or any other disaster that may accompany it.
The Public Relations Officer of the AMA, Nuumo Blafo in an interview with Citi News said, said the assembly was also disilting major drains within the city to avoid devastating effects of the floods.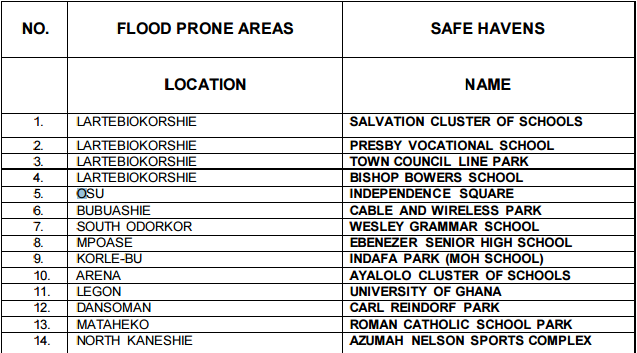 "What the AMA is also doing is desilting of the major drains and we are advising people within the communities to desilt the minor drains around them," he said.
He also cautioned the public against dumping solid waste into drains at the onset of the rains. The alert comes after a report by Citi News' Kojo Agyemang that noted a looming danger of major floods in Accra due to activities of garbage collectors who dump waste into the Odaw River, a major drainage in Accra that discharges into the Gulf of Guinea.
Ghana's capital, Accra has in the last decade suffered series of flooding resulting in the loss of lives and properties.
The worst of such events recorded in recent history with on June 3, 2015.
Source: citifmonline.com