Every one has suffered the hurt of unrequited love and recovery can be long and painful. In fact, it impacts different people differently. Not getting his love reciprocated served as a huge motivation for 23-year-old Nalin Mahendru who lost 24 kilos in 6 months. Here is his journey from 109 kilos to 85 kilos.
Name: Nalin S Mahendru Age: 23 years Highest weight recorded: 109 kilos Weight lost: 24 kilos Duration it took me to lose weight: 6 months The turning point: I was told by my crush that ultimately it is good looks and money that matter, not a good heart. I wanted to prove to her that looks can be changed and money can be earned but it's your inner beauty that stays. I wanted to change her perception by looking good and transforming myself. My breakfast: Boiled veggies/sprouts with low-fat milk My lunch: Boiled chicken/mutton/veggies, fruits, rice with a plate full of salad. My dinner: Soup/dal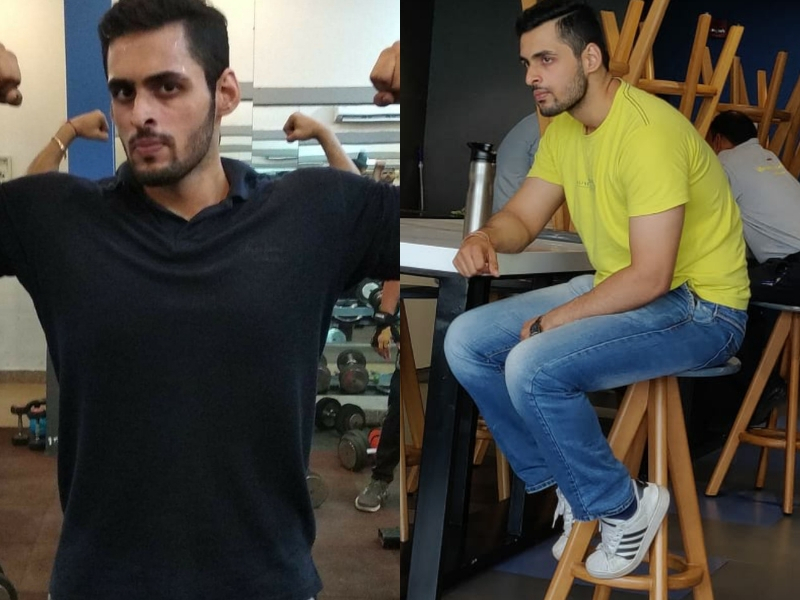 I indulge in (What you eat on your cheat days): I never ate outside during my entire weight loss journey. But sometimes I ate homemade parantha, omelette or kadhai chicken. My workout: My daily workout includes 30 minutes of cardio (running), side raises and squats in the morning. In the evening, I do 30 minutes of cardio with exercises like cycling, PT jumps, leg raises, and 60 minutes of weight training. Low-calorie recipes I swear by: I maintain an intake of 2000 calories every day. I eat low carbs and low-fat foods like multigrain bread, boiled eggs or chicken/chana soup. I also mix high protein food with nuts and I usually prefer eating raw. Fitness secrets I unveiled: Managing your daily calorie intake along with regular workout is the key to losing weight. How do I stay motivated? I had to prove to a few people that looks can easily be transformed. My determination changed into obsession and I managed gym sessions, my office and studies, all together. How do you ensure you don't lose focus? I realised that the only way to prove myself was to work hard on my body and transform myself. And I am thankful to my friends, my boss and my relatives who always encouraged me and stopped me from eating junk food. What's the most difficult part of being overweight? Though I am a confident person but due to my excess weight, sometimes I used to feel conscious about my looks, especially while dancing. What shape do you see yourself 10 years down the line? I want to have a V-shaped muscular body.
What are the lifestyle changes you made? Earlier I had to work hard to maintain my daily calorie intake. But now it has become a habit and happens automatically. I have stopped eating junk food and consume only low carb and low-fat food.
What was the lowest point for you? After a tiring day from the office, it was hard for me to go to the gym and workout. Though I was drained by the time I reached my bed but it made me feel satisfied. Also, when you see the results, motivation comes on its own.
Lessons learnt from weight loss: Achieving a goal is about determination and goodwill. Working in the right direction with all your willpower leads to 100 per cent results.
If you too have a weight loss story to share, send it to us at toihealth1@gmail.com
Source: indiatimes.com