A Ghanaian man who is currently in India with his wife to get treatment for their four-year-old daughter, Abena, received prompt response from the External Affairs Minister of India via twitter to help them extend their stay in the country.
The man who is known as Richmond Asiedu Larbi,together with his wife received a tourist visa due to which it was not possible for them to stay back in Allahabad for five months needed for treatment of their daughter who is suffering from cerebral palsy.
https://twitter.com/Koorasta1/status/817323996429615104

— (@Koorasta1)
The External Minister, Sushma Swaraj, who is active on twitter immediately replied Mr. Larbi, assuring the couple's that their visa will be increased on the advice of their doctor so that the child could get treatment.
After the assurance tweeted by Madam Swaraj, orthopaedic surgeon Dr Jitendra Jain, who is providing treatment to the ailing Abena, and her father Richmond have speed up process for the extension of visa.
Abena's parents Richmond and Faustina had sent an email to the ministry of external affairs for extending visa from February 2, 2017 till June. On receiving the assurance, Abena's father Richman left for Ghana to take care of his other daughter.
Abena's mother Faustina, who was very happy, said at one point they lost all hope of staying back in India.
"Now, I can feel that Abena will recover from the problem and will be able to walk and lead a normal life. We are eagerly looking forward to that day," she added.
Dr Jitendra Jain, who specialises in treatment of cerebral palsy, said the process had started for getting medical visa. "The treatment will involve surgery, exercise and physiotherapy. The parents will also be trained for providing different therapies to Abena," he said.
Below is a copy of the letter;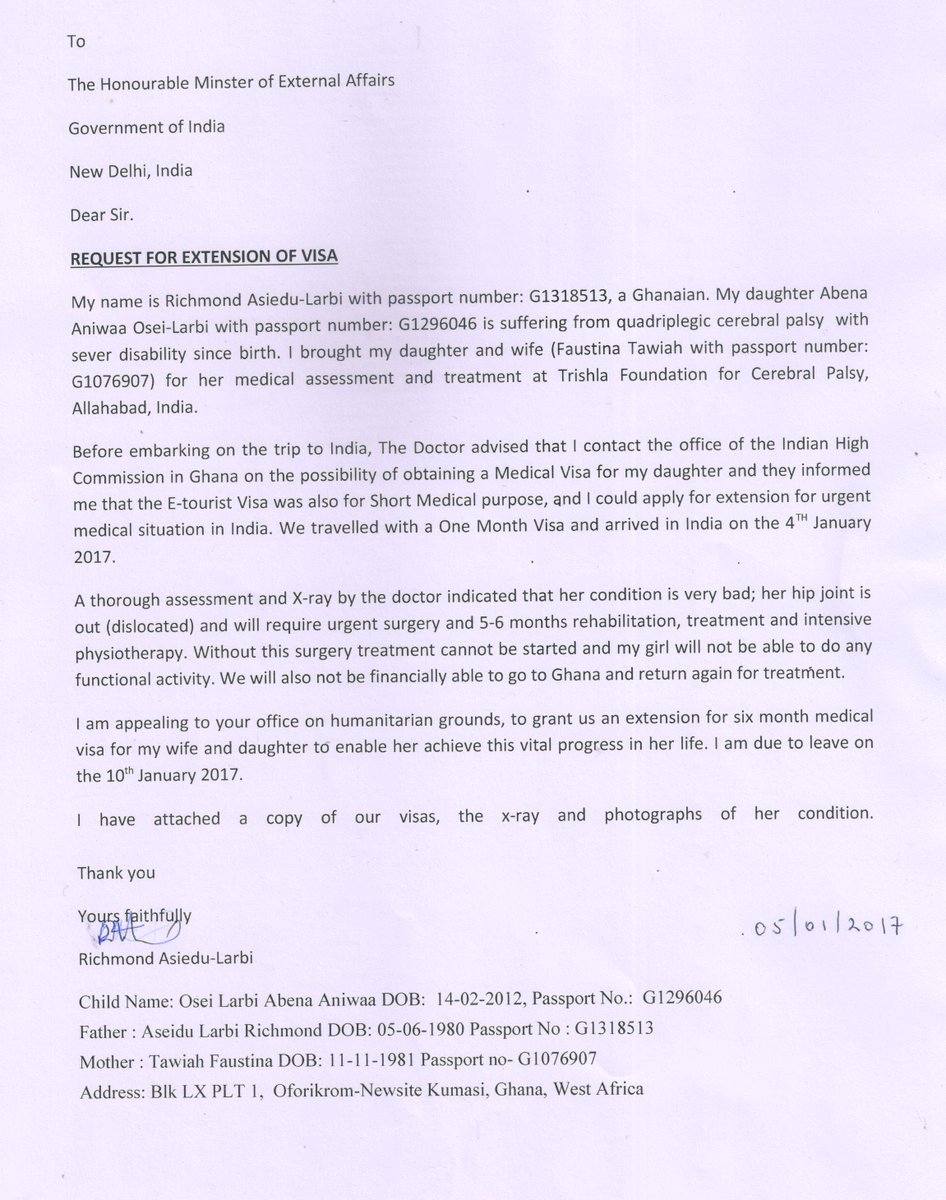 By: Farida Mohammed/ghanaguardian.com