Country's biggest cricket extravaganza, the Indian Premier League (IPL) 2019 has started with a bang. The nation-wide cricket event will continue till mid-May. Though none of the cricket fans wants to miss any match, busy work schedules sometimes come in the way. Then, there are those who are interested in knowing additional fun facts about IPL and associated players, cricket venues.
This is where Google Assistant comes handy to stay updated with match scores and find answers to queries.
Using the virtual voice assistant, cricket lovers can stay updated on IPL matches. One may ask the Google Assistant about live IPL scores, upcoming IPL matches and whether or not your favourite player is playing the next match. IPL lovers can try asking questions like 'What's the IPL schedule?'.
Further, users can ask the Google Assistant by asking some fun facts about IPL. For example, trigger your Google Assistant then say 'Mumbai Indians player list'.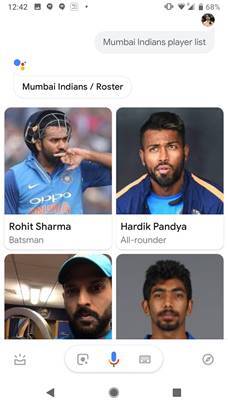 One can also ask some personality questions to Google Assistant like 'What are your predictions for IPL Season ?', 'Do you love the helicopter shot?', or 'Do you like batting or bowling?'.
In a related news, Google announced support for four new Indian languages to the Google Assistant at Mobile World Congress, 2019. The company added four Indian languages to Google Assistant. These included Gujarati, Kannada, Urdu and Malayalam. Additionally, the company made it easier for the users to switch from one language to other. Users can change language by saying 'Ok Google, talk to me in Telugu'. Lastly, the company also revealed its plan to bring voice typing support to feature phones that run on KaiOS. With the new support, users will be able to make the Assistant type messages for them.
Source: gadgetsnow.com