Let me begin by saying this: I'm not a professional photographer. I have a slightly better-than-101 understanding of how cameras work and why things such as sensor size and f-stops matter. Looking at tech specs is far from my idea of an engaging read.
As a travel editor, I do love taking pictures, though. And I take tons of them—thousands and thousands on any given trip, almost entirely on smartphones. I take my Instagram game seriously and occasionally have images published here, on the very site you're reading. For years, I've been so dependent on mobile photography that I've committed to carrying around two phones—one, an Android, that's easier to type on, and the other, an iPhone, that has stronger apps and a killer camera.
For the last few weeks, I carried three: Google's Pixel, the iPhone 7 Plus, and the Moto Z, the latest entrants to the mobile photography race. (The Moto has flown largely under the radar, but its key selling point is its compatibility with magnetic "mods" that include a portable speaker and an attachable Hasselblad 4116 True Zoom camera.) We are living in the first true golden era of smartphone photography.
But that's not why you're here. You want to know which one is the best.
And, well, that answer is a bit complicated—after five head-to-head layman's tests, where I focused on experience and results (hardware specs be damned), I'd be happy with any of them.
This is not a cop-out as much it is a recognition that I'm probably a lot like you when it comes to my smartphone camera: All I want is for it to take good pictures, quickly, clearly, and without much effort. If I wanted a real camera, I'd get one of these new mirrorless, DSLR, and rugged models. But with my phone, as long as I can compose a decent shot whenever there's a great subject in view, and whatever the given situation is, I'd like to think my phone can meet me the rest of the way.
Here's how each performed against key selling points. All you have to do is determine your top priorities before your next upgrade.
If You Need ... Auto-Focus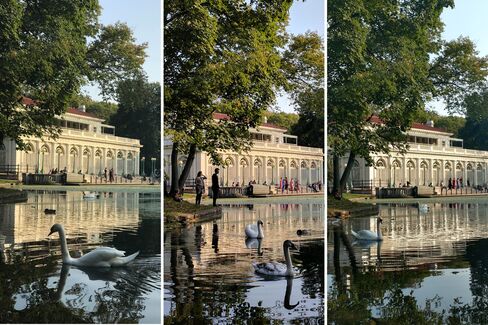 The idea of never missing a shot is what really drives mobile photography; it's why every phone has shortcuts for opening the camera app. But that quick-draw image is no good unless it's in focus. My auto-focus tests were conducted both in daylight and at dusk, with both fast-moving and still subjects.
Winner: The iPhone 7 Plus won for crispest images across the board. Even when I was snapping from the window of a moving car, it managed to deliver beautifully defined shots of the Manhattan skyline—one frame after the next.
(Very Close) Runners-up: The Pixel more or less flopped from the moving car window, but take out the fast-moving subject, and man, does that phone shine. In both daylight and low light, the auto-focus performed faster than those of its competitors, never taking more than a second to go from blur to fab.
The Moto Z fell in between. Two out of three frames on the Manhattan bridge came out clearly; everywhere else, I really appreciated the fact that the Hasselblad attachment lets you trigger its autofocus with a halfway press of the shutter button, just as on a real camera. It's way easier than repeatedly touching the screen and makes one-handed shooting a breeze.
If You Need ... Low Light Handling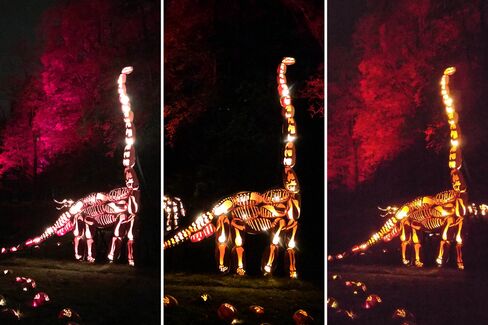 Luckily for the purposes of my experiment, I was able to head to
the Great Jack O'Lantern Blaze
, a spooky pumpkin festival in the Hudson Valley, ahead of the Halloween weekend, with all three phones in tow.
Winner: The Pixel—no contest. It did a commanding job of focusing quickly in low light and offering warm (but accurate) color balance. It had a stronger dynamic range, by far, which is what kept the red foliage in check in the background. You'll also be thankful for these features in dimly lit restaurants.
Runners-up: While the MotoZ offered color that felt truer to life, the iPhone7 offered a sharper low-light image.
If You Need ... a Powerful Zoom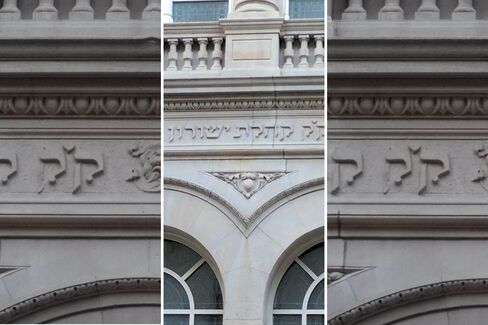 Usually, if I need a great zoom, I'm not relying on my smartphone. But that's starting to change. Both the MotoZ (with its Hasselblad attachment) and the iPhone 7 Plus have a 10x zoom capability, whereas the Pixel is limited to 4x.
Winner: MotoZ, which I was able to use to get a crisp shot of the third-floor lettering on the side of an Upper East Side Synagogue from across the street. That's because the attachable camera has a proper optical zoom lens that you won't find on any other phone camera—not just a digital zoom that works by tightening the crop of your shot. The difference here was palpable.
Runner-up: The iPhone still has an exceptional zoom capacity—even if its 10x range is purely digital. But pushing it to the edge means you're likely to get a blurry shot. That's still better than the Pixel, whose zoom fell flat by comparison.
If You Need ... Great Portraits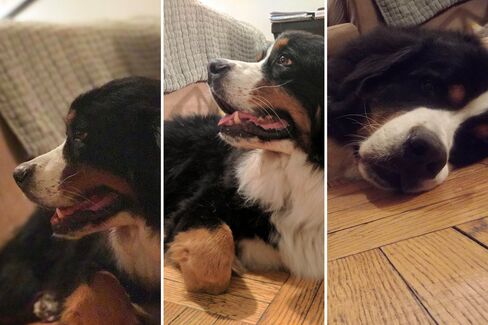 Pets and babies: They're two of the most common subjects for smartphone photographers. So even if you're not getting beautiful street style portraits, this is a feature that you'll use on the regular.
Winner: The iPhone 7 Plus has a portrait mode that is designed to deliver flattering depth of field. (Read: Your background is softened while your subject is in clear view.) The result is really as beautiful as they make it sound. Getting there requires a little legwork, but thankfully, the phone will coach you through it: It tells you if you need more light or more distance from your subject. Sometimes you're straight out of luck. But when it works, it really works wonders.
Runners-up: Even though the MotoZ has two dedicated portrait modes (one for night portraits and the other to correct backlighting), I struggled to capture my dog's eyes or to get fully focused shots of her face. The Pixel, meanwhile, has no fancy portrait mode. But remember that excellent auto-correct? It helps deliver lovely portrait shots in a pinch.
Source: Bloomberg