For 27-year-old Amith Rv, being overweight had made his life one big struggle. From trying to find clothes of his choice to travelling in public transport, it became difficult for him to go on and about with his life. Instead of giving up, he started educating himself about healthy diet plans and exercising, and the results are here for all to see.
His story is a classic example of what happens when you don't give up in life. His sheer hard work and consistency is an inspiration for many of his social media followers. Read on to know more about his motivating weight loss journey. Name: Amith Rv Occupation: Analyst Age:27 years Highest weight recorded: 136 kgs Weight lost:40 kgs Duration it took me to lose weight: 2.5 years The turning point: My condition deteriorated to an extent where I could not recognise myself in the mirror. Doing day-to-day activities became increasingly difficult to the point where using public transport became a complete nightmare. It was then that I decided to pull up my socks because I needed to change the way I was living my life. Others had simply asked me to accept the way I was and live with it. My breakfast: Usually, I have a high protein breakfast which includes 3 whole eggs, 2 egg whites, 2 wheat bread slices and 1 apple My lunch: I have 2 eggs, some green vegetables and rice or chapati Evening: 1 fruit, 10 almonds and a piece of dark chocolate My dinner: 1 bowl of salad, 2 eggs and 3 chapati
I usually have my dinner by 7 pm and avoid late night dinner. Also, I keep changing my diet from time to time as the body gets used to the diet plan. I indulge in (What you eat on your cheat days): On cheat days, I usually eat everything and anything that I feel like. I make it a point to eat a variety of food items, instead of sticking to just one. I enjoy eating Chinese cuisines like noodles and vegetable manchurian. I also love having street food like pani-puri and grilled sandwiches. My workout: I have a strict workout regime. I workout 6 days a week, taking just a day off. I do strength and resistance training, followed by cardio for about 30 minutes. I lift moderate to heavy weights.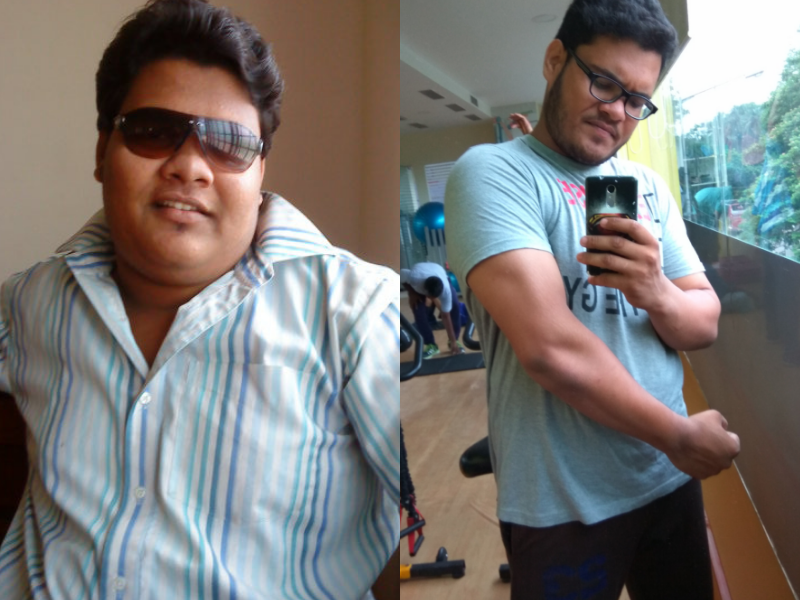 Low-calorie recipes I swear by: I eat a lot of fruits and vegetables which leave me full for a longer duration time and are pretty low on calories. I also make smoothies with protein powder and fruits, which are not only really filling but also taste amazing. Fitness secrets I unveiled: We usually overestimate what we can achieve in a short duration of time and underestimate the amount of work that can be done in the long term. Patience and consistency are very important to reach your required weight goal.
We should pay equal attention to portion control as sometimes we end up eating much more food than our body requires. How do I stay motivated? Being disciplined is the key to staying motivated. My friends and family showered a lot of love on me and those who look up to me on social media, motivate me to be the best version of myself. How do you ensure you don't lose focus? Our transformation at the end is the result of hours of hard work and following a strict diet plan. So when we achieve the goal, it's important to keep bettering ourselves.
Over the last few years, fitness has become my lifestyle now. I literally don't know what to do between 5:30-7:30 am during holidays at the gym. I make it a point to take regular breaks from the gym and diet as well, so sometimes I play sports or go swimming. What's the most difficult part of being overweight? The initial part is always tough, so you have to be consistent even on bad days. The result will be slow but eventually, everything will come together and change your life. The point at which we usually give up is the point where everything will begin to change. Hang in there!
What shape do you see yourself 10 years down the line? I want to continue this healthy lifestyle and become more flexible.
What are the lifestyle changes you made? I started walking a lot more and started consuming at least 3-4 litres of water per day. I also started to wake up early and go to bed on time.
What was the lowest point for you? I was off diet and exercise for a few months after I injured my left knee badly. I started binge eating again and gained 10 kgs back. It was a heartbreaking moment for me but after 5 months of toiling, I am finally back on track again.
Lessons learnt from weight loss: Anything is possible, so don't let others determine your limits.
Source: indiatimes.com