Los Angeles residents awoke on New Year's Day to find a prankster had altered the famed Hollywood sign to read "Hollyweed".
KABC-TV reported that Los Angeles police had dispatched a unit to investigate the apparent vandalism.
It quoted a witness, who it showed with two fellow hikers posing for a photo with the revised landmark in the background, as saying the reworded sign was "pretty cool".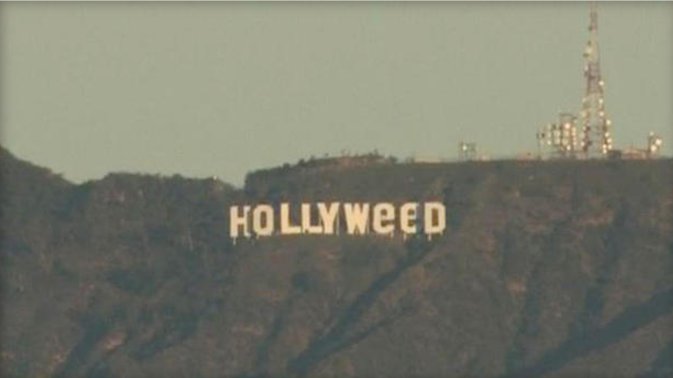 — (@CBSNews)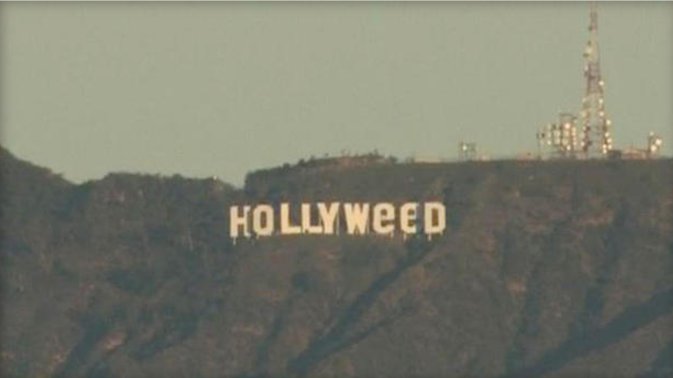 ">
">https://twitter.com/CBSNews/status/815601734198448128" data-tweet-id="815601734198448128" data-scribe="section:subject">

— (@CBSNews) ">
Someone changed the famed Hollywood sign to read "Hollyweed" http://cbsn.ws/2iEaqnI 
— (@CBSNews)
">
In November, California voters approved Proposition 64, which legalized the recreational use of marijuana in the state, beginning in 2018.
The Hollywood sign was erected in 1923 and originally said "Hollywoodland", to advertise a new housing development in the hills above Los Angeles.
It has been altered to say "Hollyweed" before – in 1976, after the passage of a state law relaxing rules concerning marijuana.
The same prankster, Danny Finegood, changed it to read "Ollywood" in 1987, in protest over positive treatment of Col Oliver North, the marine at the center of the Iran-Contra scandal; he also made it read "Oil war" in 1990, in protest at the first Gulf war. Finegood died in 2007.
Source: the guardian