The National Democratic Congress (NDC) parliamentary candidate for the Sunyani West constituency in the Brong Ahafo Region, Justice Samuel Adjei on Saturday led some party faithfuls to embark on a health walk.
The exercise organized by the Tertiary Educational Institutions Network (TEIN) chapter of the University of Energy and Natural Resources was to showcase to the constituents President John Mahama and the NDC parliamentary candidate in the area.
They also used the opportunity to endorse Justice Adjei ahead of the December 7 polls.
Wearing NDC branded T-shirts, patrons of the exercise walked through some principal streets of Fiapre holding placards and posters, some of which read: "I am fixing dumsor, so so wonders Mahama dey do," "JMToaso!!!" "Mahama who has changed Lives and Transforming Ghana," among others.
Addressing the NDC supporters after the exericse, Justice Adjei urged residents of the area to vote massively for the NDC because they have the welfare of the populace at heart.
"The truth is that we vote for development and better living standards. That is why we at the NDC call ourselves the social democrats. The welfare of our people is dear to our hearts and this is reflected in our 2008, 2012 and 2016 party manifestoes. The four (4) pillars that our vision stands on shows the welfare of the Ghanaian people. So if we build the economy and some others who preach economy tell us that what we are building to facilitate the growth of the economy is not what we eat, then it is clear that they are economists who do not know their work or failed in economics," he said.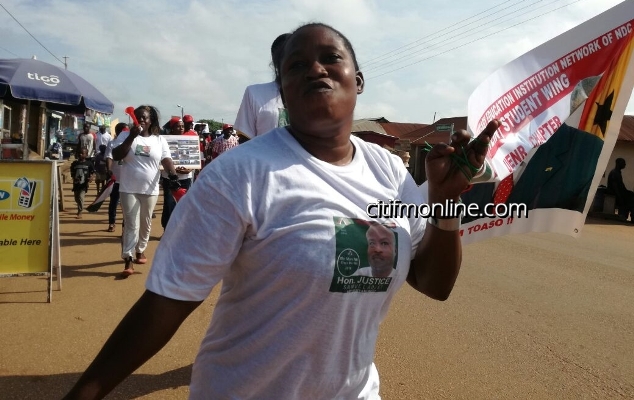 "Before we have a GDP growth, there is the need to put an infrastructural base that will help the private sector to grow. People sit on the radio and TV and say that there are difficulties in the country, as if that means that the country's GDP has dropped. What they [NPP] say is that during their time, GDP was 6 but has now dropped to 3. That is true but the micro economy has grown. That is the infrastructure that the NDC has built to help the private sector to rise and subsequently the country's economy to grow as well. So as students, let us not let the economic jargons that Bawumia and his people say on TV discourage us," he added.
Justice Adjei is also the Deputy Regional Minister for the Brong Ahafo Region.
citifmonline.com