I know the sensitivity that is attached to this policy when you mention it. I know how far people are willing to go to defend or tear it apart. That is expected of a change.
Before you kick the hell out of me, please permit me to play the role society has tasked journalists like myself to play for the collective good of us all, when matters like this comes up for discussion.
Personally, I have had my reservations about the promise of a free Senior High education in Ghana since 2012. In my view, the free part of the policy is possible because, no one thought Ghana could be paying 275 MPs over Gh10, 000 each every month and fuel their cars and give them plush accommodation 20 years back.
It would have been met with similar criticism like we are doing to the Free SHS policy. So it is possible if we are committed to doing it. After all, if the taxpayer is able to give such luxuries to politicians, why can't he do same for himself and his children? That is it, the free is possible!
However, I believe the free should not be for the general Senior High Schools. Please, before you squeeze the hell out of me, hear my submissions first, followed by the numbers.
It is a fact that, many graduates are jobless, or are doing what they did not ideally wish, after going through the SHS system and through to the universities. As a matter of fact, it is this form of education that has produced the many graduates who are said to be unemployed, or unemployable. unemployed graduates we call them.
That said, I thought anyone wanting to help these unemployed graduates, or wanting to end this trend will equip these graduates with hands-on skills readily needed by the job market or employers, or help them become entrepreneurs after school. Like I said, the current school system is a culprit of the situation.
Fast-forward it to the 2016 NPP manifesto, and you see an industrialized Ghana clearly pictured. How do you industrialize? You need people who will envision the industrialization dream, [strategic thinkers produced in the universities, and then give the plan to people with sharp hands-on skill for implementation, [the technical people]. It's a natural order!
But people produced from the universities we are told are overly produced in view of employment avenues. They are not getting the jobs! They are unemployed graduates.
How about the technical people? Can the same story be told of them? The answer is no! They are not that many in our country. In fact, we have seen many contracts going to foreigners due to lack of capacity. 60 years on, we have no contractors with expertise and finance to build interchanges! Think of any mega-structure you see around you. They are all built by Chinese and the rest of them.
Clearly, we need more technical hands with technical and financial abilities to facilitate the industrialization dream than opening the floodgates to people to the universities.
You can argue that Nana Addo said that vocational and technical students are going to benefit from the free policy, but consider this; even when it was not free, people saw it more lucrative to go through the general senior high school system than the technical schools.
Now that both are free, imagine the number of parents who would want their children to go through the general SHS system. Do not be surprised people may even end up saying free technical school system is inferior!
But think of it. How many technical people do you see roaming on the streets for jobs like those who have completed universities? They are certainly in the minority.
We need to understand the link between the general SHS system and the technical schools. Few of those who go through the general SHS are needed to work on the salaries and insurance etc. or the welfare of the majority who will be doing the field jobs in a country that wants to industrialize.
Take a factory for example. More technical people are needed in the production chain than the fewer persons who will be working on the books. So why are we now going to open the floodgates to the fewer people we need?
It is for this reason that I saw former president John Dramani Mahama's initiative of building 200 Community Senior High Schools as a misplaced priority! Complete misplaced priority! It got to a point he was concerned about how many has been built, but not how many were putting readily available skill into the Ghanaian youth. I thank God he didn't complete them!
In view of the promised one district one factory programme, it is evident that we need people who are skillful in converting say cassava, coconut, cola sugarcane etc. into finished goods, depending on what the district is known for. That in my view is why we should spend time changing the mindset of parents towards technical education. It will help us reduce unemployment.
Picture this: Imagine if the monies for the 200 community SHS were used to build 50 21st century technical schools [5 in each region]. Then the funds for another 50 were used to buy modern laboratory equipment for the schools.
We could have produced whatever number of students who will not later become unemployed. The remaining funds for the 100 could have been used to build or upgrade laboratories in existing senior high schools to fit a 21st century facility. It's not too late to do this though!
Now let's check what the numbers say about the people we need the most at this time in our development and compare with senior high school records.
Senior High School
Senior high school enrollment in Ghana for the 2014/2015 academic year stood at 804,974 students, made up of 275,733 in SHS 1, 274,609 in SHS 2 and 254,632 students in SHS 3 in both public and private schools. These 804,974 students are taken care of by 39,597 teachers out of whom 6,180 are untrained.
These students are studying agriculture, Business accounting and secretarial, General Science and Arts, Technical, Home economics and visual arts.
The numbers are Agriculture: 42,272, Business accounting: 121,155, Business secretarial: 3,708, General Science: 95,414, General Arts: 354,885, Technical: 24,907, Home Economics: 111,407, Visual Arts: 51,226.
Technical
Total number of students in school in the 2014/2015 academic year stood at 42,513. This number is 19 times lower than those in SHS.
Now, the shocking thing is the figures put out there by the Ghana Education Service on schools offering technical education at the secondary level.
For SHS, the number of schools increased from 840 in the 2013/2014 academic year to 863 in the 2014/2015 academic year. [Addition of 26 schools].
Sadly for technical schools, there was a reduction in the number of institutions. In the 2013/2014 academic year, there were 186 technical institutions. But it reduced to 185 in the 2014/2015 academic year. A reduction!
So there are 863 schools for SHS, whilst technical schools have 185; difference of 678 schools. Apart from the dwindling number of technical schools for a country that claim to industrialize, the condition of existing schools leaves much to be desired.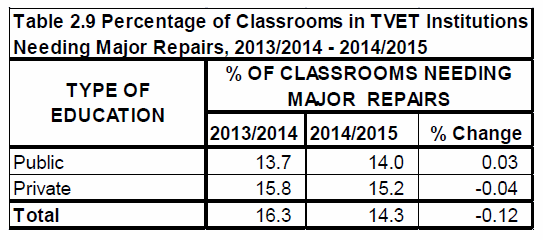 So in my opinion, the free policy in education must happen because we can do it, but I think it is the technical institutions that must be given more priority than the general SHS system. I hope someone is reading. – By: Obrempong Yaw Ampofo
By: Obrempong Yaw Ampofo
Email: walkerjazzy23@gmail.com