It seems Ranveer Singh knows the likes and dislikes of his wife Deepika Padukone quite well. Why, you ask? The actor recently gifted her something super quirky and took her by surprise. Can you guess what it was? Here's a hint: It has something to do with a popular emoji and you don't need to break your bank to buy it.
Well, it's not diamonds, designer bags, high-end car or a luxurious international trip! Ranveer gifted her poop-shaped slippers and proved yet again, no one understands her better than him.
Deepika took to Instagram to share the photograph of this gift and captioned it as "Husband knows me the best! #bestgiftever." Adorable, isn't it?
Here's the screenshot…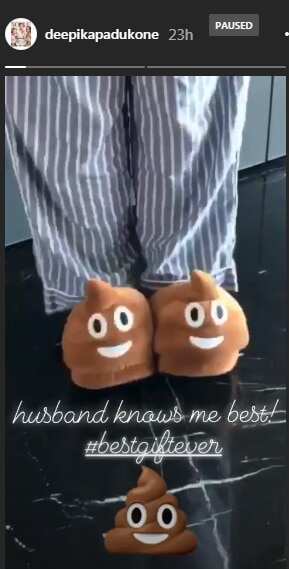 Recently, the actress unveiled her wax statue at Madame Tussauds in London, and Ranveer was amongst her top admirers there. The duo happily posed together for the shutterbugs and in another sweet gesture, Ranveer posted a photograph on Instagram where he is admiring his wife's statue. Not just this, he captioned this picture as, "DP 2.0! Original toh...mere paas hai! ;) #twomuchtohandle".
View this post on Instagram
DP 2.0! Original तो ... मेरे पास है! ;) #twomuchtohandle @deepikapadukone @madametussauds
The couple dated for about six years and tied the knot last year in November. We wish them an amazing married life ahead and expect to see many more similar Instagram stories in the future.
(Images: Instagram)
Source: indiatimes.com