A freshly out of rehab Kanye West met with U.S. President-elect Donald Trumpyesterday, alongside his mother-in-law Kris Jenner's boyfriend Corey Gamble atTrump Tower in New York City.
Kanye said they discussed "multicultural issues" including "bullying, supporting teachers, modernizing curriculums, and violence in Chicago" and insisted on keeping an open line of communication with Trump "if we truly want change".
Now what else happened? Trump gave the rapper a signed copy of TIME with himself on the cover.
He signed it,
"To Kanye, you are a great friend. Thanks, Donald Trump"
">https://twitter.com/kanyewest/status/809071452708360192" data-iframe-title="Twitter Tweet" data-dt-full="%{hours12}:%{minutes} %{amPm} - %{day} %{month} %{year}" data-dt-months="Jan|Feb|Mar|Apr|May|Jun|Jul|Aug|Sep|Oct|Nov|Dec" data-dt-am="AM" data-dt-pm="PM" data-dt-now="now" data-dt-s="s" data-dt-m="m" data-dt-h="h" data-dt-second="second" data-dt-seconds="seconds" data-dt-minute="minute" data-dt-minutes="minutes" data-dt-hour="hour" data-dt-hours="hours" data-dt-abbr="%{number}%{symbol}" data-dt-short="%{day} %{month}" data-dt-long="%{day} %{month} %{year}" data-scribe="page:tweet" data-tweet-id="809071452708360192" data-twitter-event-id="1">
— (@kanyewest)
">
View image on Twitter ">https://twitter.com/kanyewest/status/809071452708360192/photo/1">View image on Twitter
— (@kanyewest)
View image on Twitter
">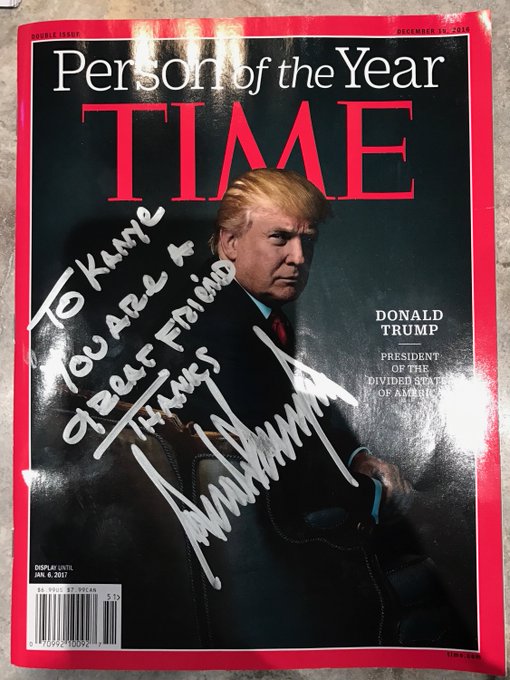 ">https://twitter.com/kanyewest/status/809071452708360192/photo/1" data-scribe="element:photo">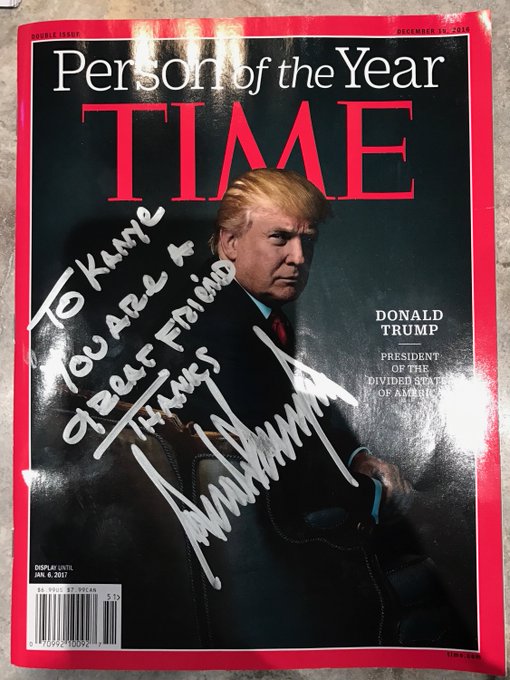 — (@kanyewest)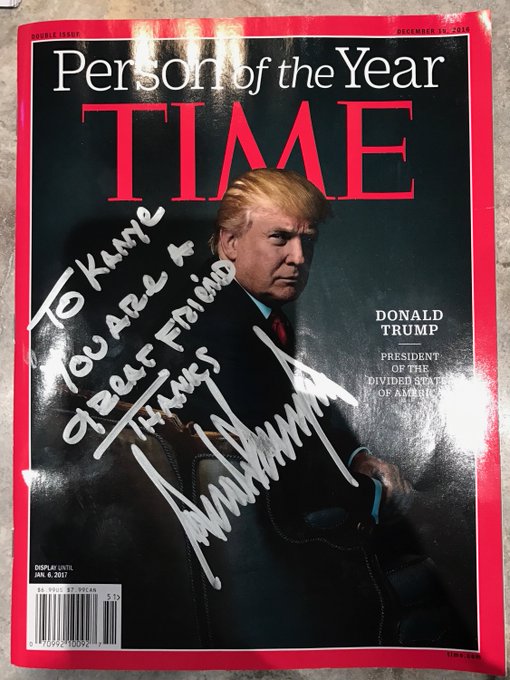 ">
">https://twitter.com/kanyewest/status/809071452708360192" data-tweet-id="809071452708360192" data-scribe="section:subject">

— (@kanyewest) ">
— (@kanyewest)
">