US President Donald Trump has officially disclosed his reimbursement to his lawyer, who paid a porn star to hush up her claims of an affair.
The Office of Government Ethics found on Wednesday that Mr Trump ought to have revealed the payment in his previous financial disclosure.
The filing shows he paid Michael Cohen between $100,001 (£75,000) and $250,000 for expenses incurred in 2016.
Mr Trump previously denied knowing of the $130,000 payment to Stormy Daniels.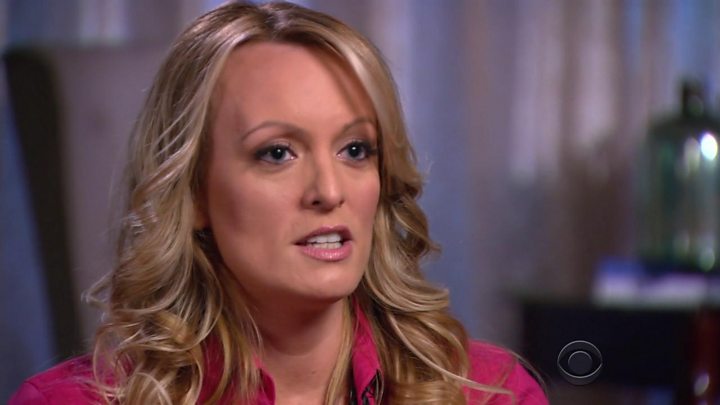 Media caption

Stormy Daniels: "I was threatened"
The White House stated in a footnote to the filing that it was listing the payment "in the interest of transparency", and contended it did not have to make the disclosure.
However, the head of the Office of Government Ethics (OGE) wrote in a letter that "the payment made by Mr Cohen is required to be reported" in the liabilities section of the statement.
In his letter to Deputy Attorney General Rod Rosenstein, the OGE acting director said: "You may find the disclosure relevant to any inquiry you may be pursuing."
The deputy attorney general is overseeing the Department of Justice investigation into whether Trump aides colluded with alleged Russian meddling in the 2016 US presidential election.
The Stormy Daniels payment is a potential legal problem for the president because it could be seen as an illegal campaign contribution.
Mr Cohen, whose records relating to the settlement were seized in an FBI raid last month, is now reportedly under criminal investigation.
Ms Daniels, whose real name is Stephanie Clifford, alleges that she and Mr Trump had sex in a hotel room in Lake Tahoe, a resort area between California and Nevada, in 2006. Mr Trump's lawyer said his client "vehemently denies" the claim.
If the actress's account is true, the tryst would have happened just a few months after Melania Trump gave birth to her son, Barron, whose father is Mr Trump.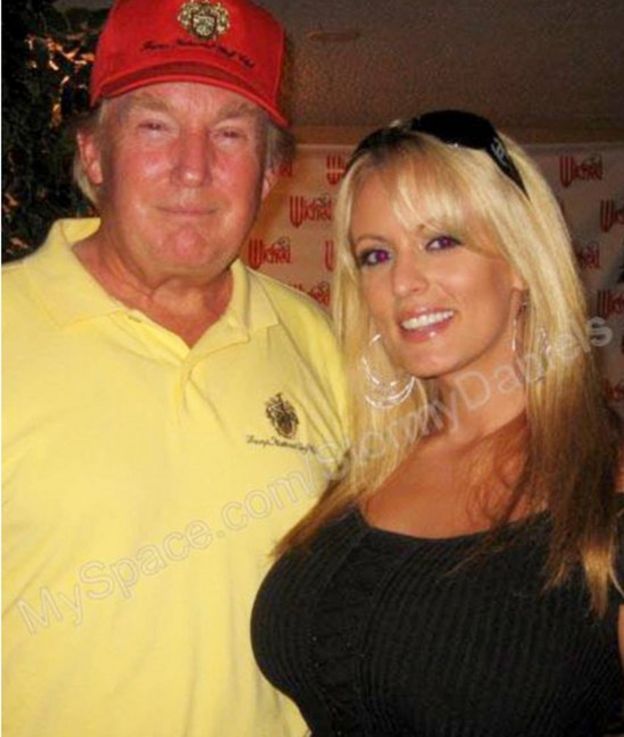 In April, Mr Trump said he was unaware Mr Cohen had paid Ms Daniels just before the 2016 election.
Mr Trump's payment to Mr Cohen was first confirmed a fortnight ago by Rudy Giuliani, another of the president's attorneys, in a television interview.
Mr Giuliani said the transaction was to keep Ms Daniels quiet about her "false and extortionist accusation" that she had sex with Mr Trump, suggesting her claim could have damaged his candidacy.
Later that week, the president said the newly hired Mr Giuliani needed time to "get his facts straight".
Also on Wednesday, the Senate Intelligence Committee backed up the American intelligence community's findings that Russia interfered in the 2016 US election to help Mr Trump.
The panel's assessment contradicts a conclusion in March by the House Intelligence Committee rejecting allegations that the Kremlin had aimed to boost the Republican candidate's chances.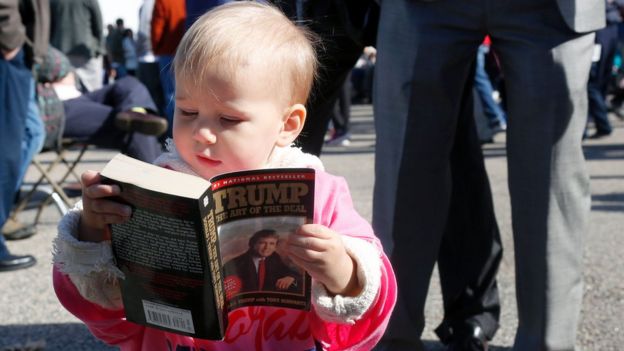 What else did we learn?
The disclosure
 shows millions in 2017 income from rents, licences, book and television royalties, company shares, hotel management fees and golf courses, with interests from India to Dubai.
His Washington hotel in a former Post Office building brought in more than $40m in 2017, its first full year in operation.
His golf courses, including the president's Mar-a-Lago retreat in Palm Beach, did not appear to see major gains, despite frequent visits from the president.
Mar-a-Lago contributed $25m in income, compared with about $37m on the previous report.
The president reported royalties from his 1987 book The Art of the Deal in the same $100,000-$1m range as he did last year – and sales for some of his lesser titles picked up.
Many of his shareholdings are in mutual and index funds, rather than the cross-section of American companies he once owned.
Source: BBC